selenak
Aka what consumes my days these days, as every year around this time. Of course, every year doesn't have Bryan Cranston as one of the guests of honor, so there was this additional perk.:) (
Here's an article about the award ceremony he was there for.
)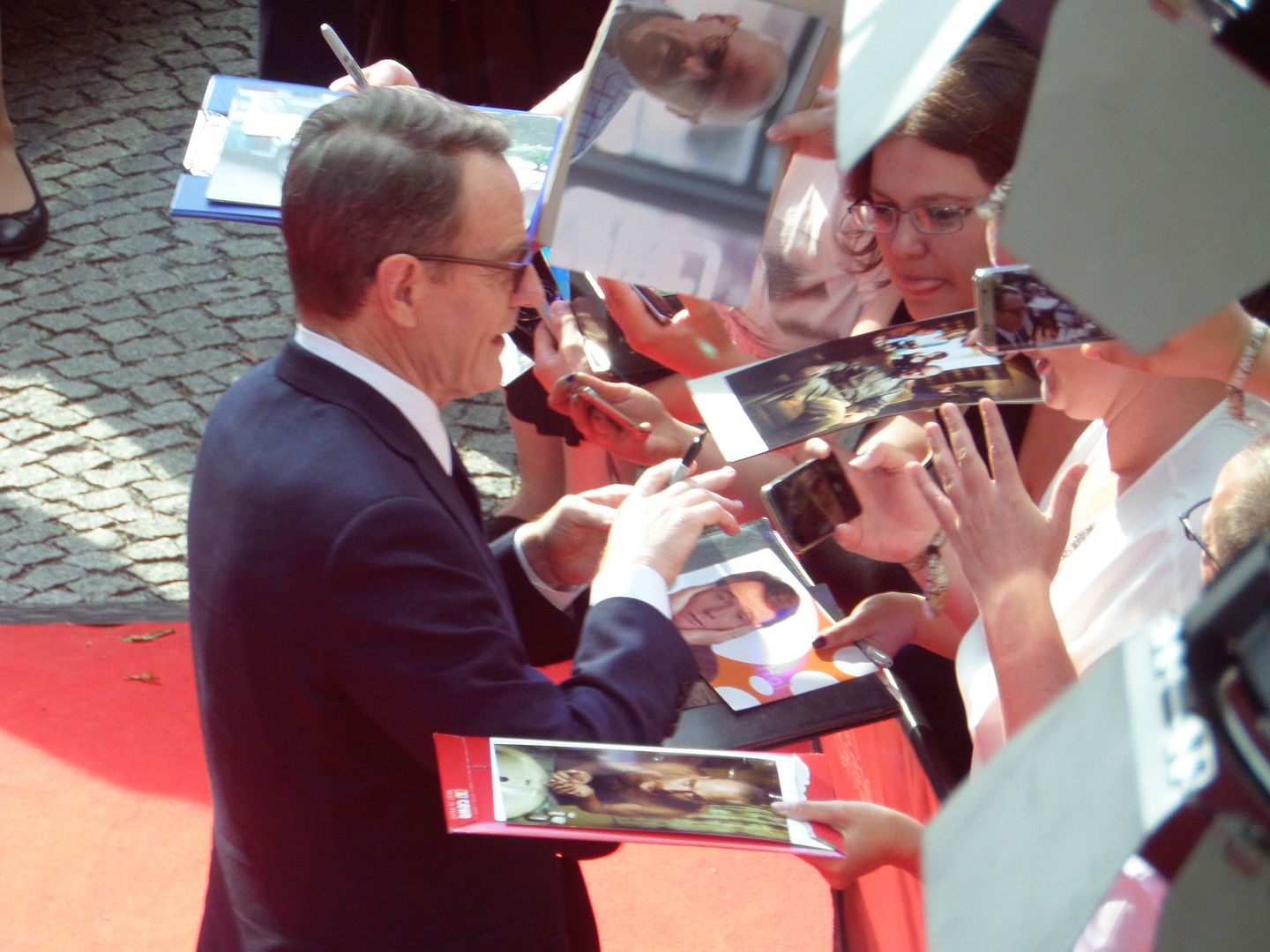 (Question: is the young man in one of the photos a fan is holding out to be signed truly Cranston some decades ago? Yikes, I wouldn't have recognized him.)
The director of
Wakefield
, one of his movies which are shown this year in honor of him (and yes, of course several
Breaking Bad
episodes are s hown as well), Robin Swicord, joked that both she and Cranston have German grandparents, and: "I don't know why they left, but you know, I think the fun is over. Might be a good idea to come back now, and I think you all know why. So thank you for welcoming political refugees." Former opera director Sir Peter Jonas outed himself as a
Breaking Bad
fan, complete with Heisenberg t-shirt, and held a speech praising the glories of narrative arc driven television. My only irritation with that one wasn't the series he singled out (other than BB) for being exceptionally good at this -
The Sopranos
,
Oz
,
The West Wing
and
The Good Wife
- , but the one he didn't mention.
Babylon 5
still doesn't get as much credit in breaking ground with its narrative arc tellng format as it deserves.
Anyway, Bryan Cranston's own speech was lovely, mostly about the way being a storyteller is the best vocation (I agree), with both wry humor and sincerity. After the ceremony,
Wakefield
was shown, but due to an unshakeable real life obligation, I could only watch the first hour. Mind you, I had mixed feelings anyway. Because I could see why Cranston was cast (excelling as he does in playing dislikeable characters whose pettiness isn't air brushed away who are still interesting to watch) , and I enjoyed seeing Jennifer Garner again (playing his wife), and found the concept something of a suburban Hitchcock satire without crime (Howard Wakefield, lawyer, due some circumstances ends up disappearing into his own attic, watching his wife and family carry on without him with the bickering zest of a true voyeur while literally reduced to eating garbage) in a clever way, it still made my skin crawl. Because in the hour I watched, most of Howard Wakefield's voyeurism and assholery was directed against his wife, and while I knew the narrative was absolutely on the same page with me here, it still felt very disturbing to watch, and so it didn't exactly break my heart that I had to leave early. (Otoh I missed the Q & A with Cranston afterwards that way, alas.)
On to movies I could watch completely:
La Familia
, a movie from Venezuela, directed by Gustavo Rondón Cordóva, currently stuck in Caracas and thus unable to make it to the festival, though he might make it to the Latin American directors general Q & A on Monday. This was a taut, intense story starting in the poorest quarters of Caracas. Our two main characters are Pedro, a twelve years old boy, and his father Andres, who works several jobs at once to make ends meet and thus hardly sees him. The introduction sequence has Pedro (Reggie Reyes) playing with some other children, and the playing has that edge of violence, those moments when shoving at each other suddenly threatens to become more, which has you sit up already. And sure enough, various scenes later, which establish Pedro's day with best friend Jonny and minus his father (who sleeps like a stone on those rare occasions when he's home), violence does explode, as a child threatens Pedro and Jonny with a gun and Pedro ends up seriously hurting the other child. His father Andres understands the implication at once because the child in question has revenge hungry people, and goes on a run with his estranged son, which is the plot line for the rest of the movie. "Going on a run", however, doesn't mean what it might were this a US film, because Andres still needs that money for Pedro and himself to survive, so he takes Pedro with him to his various jobs on the other ends of the city - they just don't go back to their own quarter, though Pedro urgently wants to because he's worried for Jonny, which makes for a big confllct with his father.
This is a movie which trusts its actors (Giovanni García plays Andres), because the dialogue is terse and rare, and you experience the shifting father and son relationship mostly through physical interaction, looks, gestures. Andres doesn' have a "killing is bad" conversation with his son, or a "how do you feel about what happened?" conversation - that's just not how they interact. And yet you can watch them becoming closer throughout the film, and at the end they truly understand each other, and even in their desperate situation have some hope for the future.
Clair Obscur
, a Turkish-German-French-Polish coproduction (yes, these do exist) directed by Yesim Ustaouglu. With a female Turkish director and two female main characters, this movie explores, among other things, various ways of what it means to be a woman in Turkey. Our two heroines live completely different existences - Shendaz is a psychiatrist with a seemingly good relationship with her boyfriend, living in very well off circumstances at the Meditterranean coast, while Elmas is still a teenager imprisoned in a marriage to a much older man who revolts her, serving him and his mother in their small flat in a skyscraper. The two storylines eventually connect when due to various spoilery circumstances Shendaz becomes Elmas' therapist; by that time, the cracks in Shenaz' own life have been revealed, but refreshingly for therapists who tend to be either demonic or incompetent when presented in a fictional story, she's still able to truly help Elmas (especially once she figures out how young Elmas really is), and eventually finds away to escape the mess in her own life as well.
The director and several of the actors were there, though not the two leads. The actress who plays Elmas' mother-in-law said whhen she read the script, she thought that this was the best discussion of female sexuality in a Turkish movie. The sex scenes aren't just surprisingly frank in the case of Shenaz (with Elmas, who does not want to have sex, the camera stays on her agonized face, and later goes with her to the restroom because the aftermath is also very painful to her), but always make a character point. In the Q & A the director was asked whether the movie could be shown like this in Turkey, and she answered she had to cut around two minutes for the general release version (though she was allowed to show the full length in Turkish festivals), which since she knew this would happen in advance she could do without taking away the meaning from the scenes in question. Mostly the general release cuts avoided the full nudity of the complete version. Since the only Muslim women showing up in Western media tend to wear headscarfs and/or hijabs, in short, live Elmas' life, I suspect the fact that Shenaz is sucessful in her profession, has unmarried sex and enjoys wine when dining with her boyfriend (who does the cooking) would be as startling as the sex and the nudity if this movie gets a release in the US or Europe. At the same time, there's the awareness that Erdogan's government and party is doing its best to make Elmas, not Shenaz' life more common again in Turkey, and that subtext is also there if you're sitting in the audience watching this film.
Shenaz is played by Funda Eryigit, Elmas by Ecem Uzm, and they're both delivering terrific performances. In the Q & A, Ms. Ustaoglu mentioned that the incredible scene in which Shenaz gets Elmas to roleplay a dream she has (which finally allows Elmas to vocalize the pain in her life) needed only two takes, one for Elmas, one for Shenaz, that the actresses were that good. And having seen this movie, I believe it.